The building itself was completed in 1889 and Svenska Fruntimmersskolan, Swedish school for girls, was ready to move in to the new, beautiful school house. This school's name changed several times over the years. One of the names was Cygnaeus school 1966, which name is repeated in one of our cabinets. At the same time, boys were allowed in this school for Swedish speaking pupils. The last pupils left the school in May 1997, hence we have customers who tell us stories about their school days in this building back in the day. Renovated building was opened as a brewery restaurant with venue locations in January 1998.
The building represents Neo-Renaissance architecture
and is designed by architects L. Lindqvist and F. Granholm. The sources of inspiration were the European, especially
the Italian Renaissance palaces, which structure is repeated in the façade. Inside the building solemnity was accentuated, especially in the assembly hall, entrance hall and staircase.
The school building was restored according to the plans of Turku Provincial Museum's and the National Board of Antiquities and Historical Monuments, under their supervision. The building's original purpose as a school and it´s historical interior were respected as well as possible during the inevitable alteration works.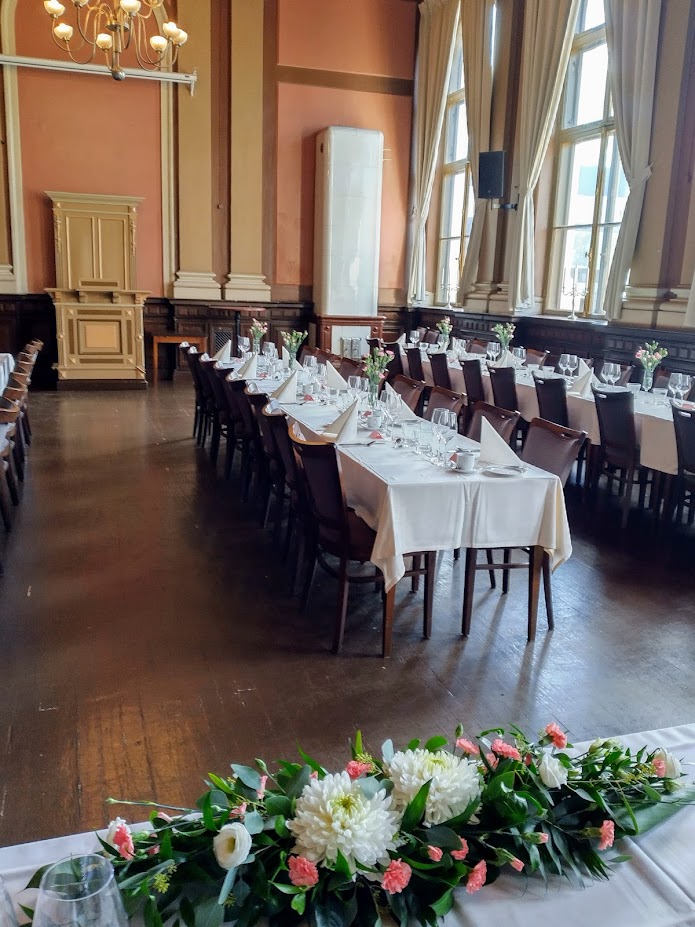 Our second-floor venues are named after historic persons:
BELLMAN HALL
Our Bellman hall in the second floor used to be this schools assembly hall and also used as a gym class. Carl Michael Bellman (1740-1795) was a Swedish poet and composer who is also known as Sweden's national poet. In his poems and songs, he was a luscious, life joining proclaimer.
The Bellman hall is suitable for almost any event. It can fit up 150 guests for a sit-down dinner. When you feel like dancing, 100 guests
fit in for a dinner and a dance. Besides parties and meetings, there has been arranged weddings, concerts and public debates.
The roof of the hall is particularly beautiful and the tiled stoves
and platform for speeches gives the hall a historical label. You can admired Bellman hall when having lunch there on weekdays.
WILHELMINA ROOM
Our Willhelmina room is a beautiful room with seats for up to 65 guests. This room used to be teatchers lounge and headmasters office. Wilhelmina Gripenberg was a head master at the Swedish School for girls between 1875 to 1893. She was an activist at her time and contributed to the fact that the school was built at its central location in 1889. She was the first head master in this school building. She was the person who insisted on the green play ground that is now our beer garden. The tall maples at our yard, that offer shadow in the summer and brilliant colours in the autumn, are her legacy still today.
CYGNEUS
Cygnaeus cabinet used to be a class room that is now suitable for meetings and private venues from small groups up to 50 persons.
It is named after Uno Cygnaeus (1810-1888). He is known as the founding father of Finnish elementary schools. Though Cygnaeus is known as the developer of the public school system, high quality teachers training and particularly women's education was important to him. He also made handicraft as a mandatory subject in Finnish elementary schools, which it is still today.
WECKSELL
Josef Julius Wecksell (1838-1907) has given the name to our Wecksell cabinet. This old class room is now a versatile room for meetings and private parties. J. J. Wecksell is considered as one of the most talented Swedish speaking Finnish writers, even though only two of his works were officially publiched before his mental health broke at age of 24. In the Wecksell kabinet, one wall is full of old school books from the time the Cygnaeus school operated in this house. Books have been given to us as donations